First Chapel Services Kick Off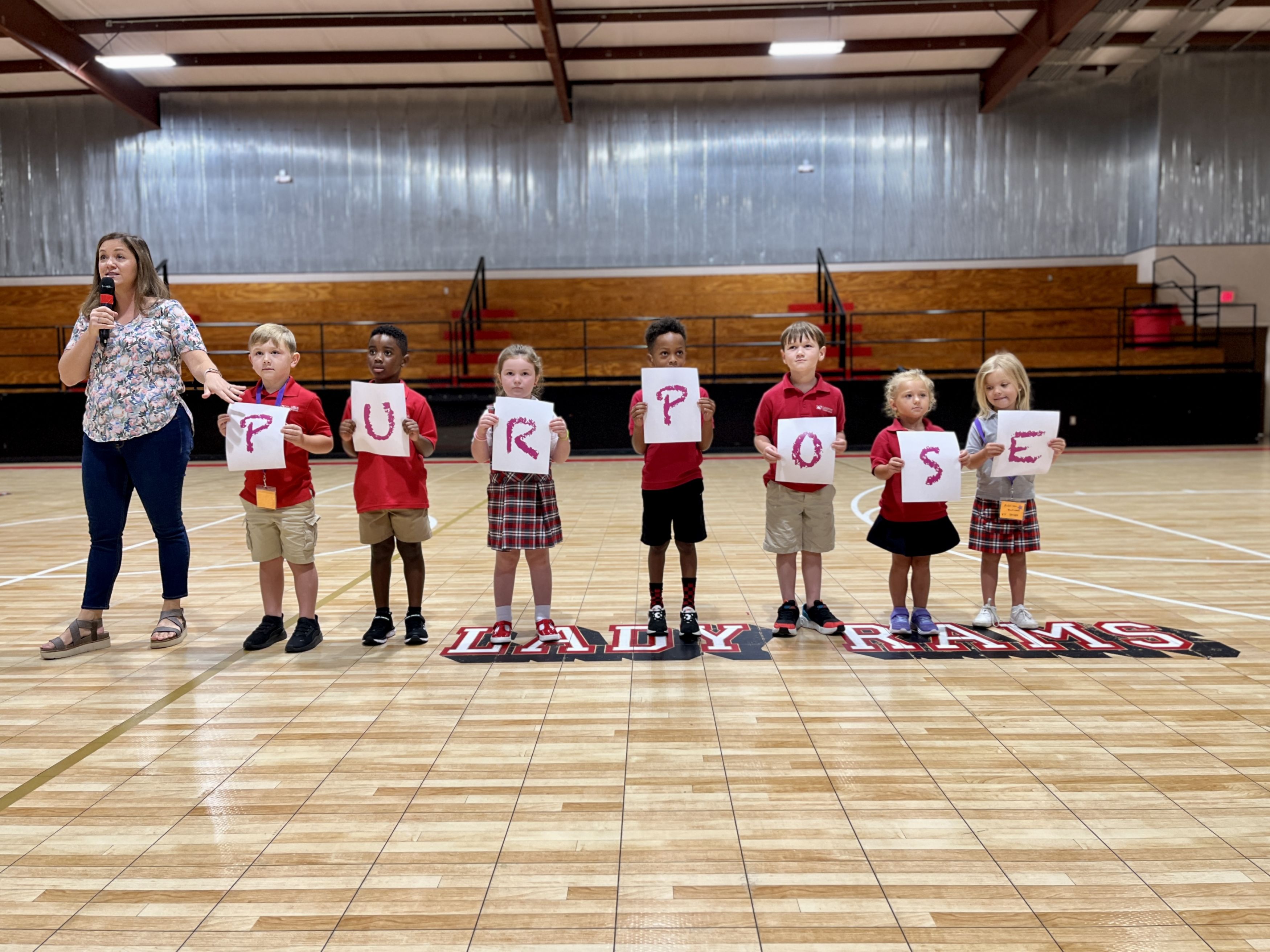 We've heard it called "the best day of the week"—and it is.
Our elementary and secondary students experienced their first chapel services last week—with secondary's taking place on Wednesday morning and elementary the morning after.
Students in preschool to sixth grade added something new this year, taking time for each grade to take the mic and share something their learning about God for the week.
At the helm of our chapel services each week is Amanda Lane, our new Director of Spiritual Formation. She said, "The vision for chapel is refocus our hearts and minds on Christ by devoting time for worship, prayer, and by hearing challenging and inspirational messages from local pastors and leaders each week."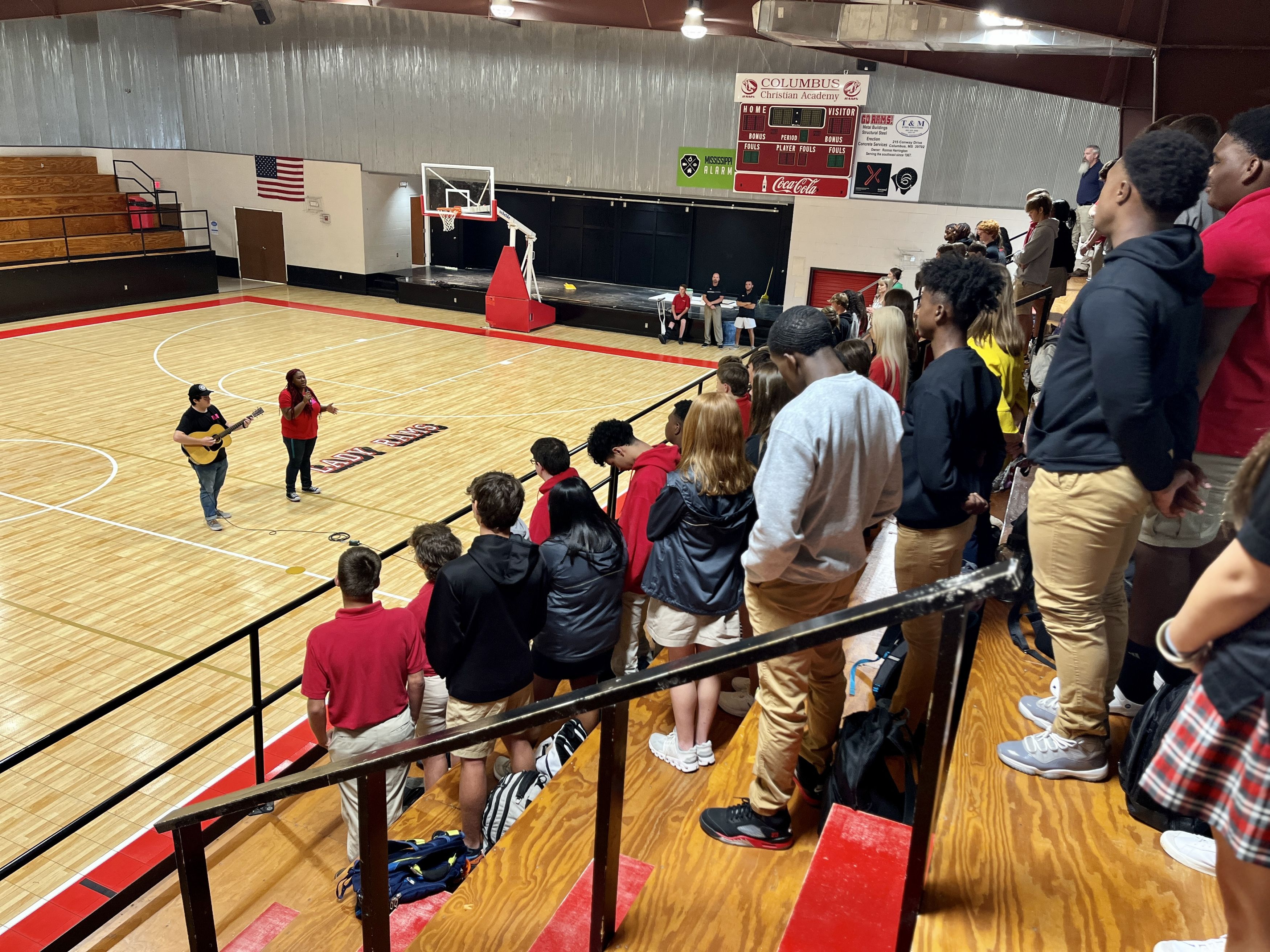 For the first week, led in worship by a team from Vibrant Church, Mrs. Lane and her husband, Pastor Aaron Lane from Vibrant Church, shared a powerful message with both groups on "Purpose" for the new school year.
"One thing I plan to introduce this year is weekly live worship experiences," Lane said. "I also want to involve students more and more in the chapel experience—to give them a sense of ownership. The ultimate goal is to keep Christ the center of all we do at CCA for the glory of God."
Facebook
---
Columbus Christian Academy
1 day ago
What's in the box? Mrs. Lawrence's 9th Grade English Class played a game where they used only their sense of touch to describe unseen objects in the box—encouraging them to expand their vocabulary and think OUTSIDE of the box. #educatingthemind #nurturingthesoul #CCAFamily
---
It's Throwback Thursday! Today, we're celebrating the 20th anniversary of the ground-breaking and construction of our current campus. We're grateful for the legacy left by those who came before us. Because of their vision and God's faithfulness, we've had the privilege of educating the minds and nurturing the hearts of hundreds of students who have walked through these halls since then. #ccathrowbackthursday #educatingthemind #nurturingthesoul #CCAFamily
---
Mrs. Cox's 4th Graders explored what conditions are needed for green bean seeds to grow. Working in small groups, they submitted their hypotheses, planted their seeds in a cup, and then either placed them in the window for "light" or in the closet for "dark." For a week, they checked and recorded their observations, looking for signs of germination. The seeds placed in the light grew into small plants but were bright green, while the seeds placed in the dark closet grew tall but were yellow. #educatingthemind #nurturingthesoul #ccafamily
---

Facebook
---
Columbus Christian Academy
1 day ago
What's in the box? Mrs. Lawrence's 9th Grade English Class played a game where they used only their sense of touch to describe unseen objects in the box—encouraging them to expand their vocabulary and think OUTSIDE of the box. #educatingthemind #nurturingthesoul #CCAFamily
---
It's Throwback Thursday! Today, we're celebrating the 20th anniversary of the ground-breaking and construction of our current campus. We're grateful for the legacy left by those who came before us. Because of their vision and God's faithfulness, we've had the privilege of educating the minds and nurturing the hearts of hundreds of students who have walked through these halls since then. #ccathrowbackthursday #educatingthemind #nurturingthesoul #CCAFamily
---
Mrs. Cox's 4th Graders explored what conditions are needed for green bean seeds to grow. Working in small groups, they submitted their hypotheses, planted their seeds in a cup, and then either placed them in the window for "light" or in the closet for "dark." For a week, they checked and recorded their observations, looking for signs of germination. The seeds placed in the light grew into small plants but were bright green, while the seeds placed in the dark closet grew tall but were yellow. #educatingthemind #nurturingthesoul #ccafamily
---